To coincide with our revamped website, we're offering the winner of this new contest an awesome prize of a brand new
iPad 2
!
With all the activity this week with the new website launch, we're announcing the contest a bit later than usual, but we'll accept entries for accounts that started trading from last Sunday night (4th September) as we have done on a late announcement.
The good news is we have a brand new dedicated section of the website going live in the next few days which will help to ensure all contests are run in a timely fashion and with realtime stats showing you quickly and easily the progress of all entrants. So stay tuned for further updates...
This new contest will switch from two weeks in length to a monthly format. So depending on the month, it may be 3,4 or even 5 weeks long. We'll always start it on a Sunday and finish on Friday.
How to enter
Entry is free and takes just a couple of minutes. First,
sign up
on ForexDesk, using the invitation code "T2WCOMP" and your T2W username. Once you're activated your account, log in and create a new practice account using the default settings. You can call it whatever you like but you must add
#T2W-SEP11
to the name, to enter this month's contest. Then make at least one trade during the month to qualify for the prize.
I realise some people have already called their account #17/18 or #17/18/19/20, these accounts will still qualify as long as you now rename them to include
#T2W-SEP11
and as long as the first trade occurred after the contest start date/time below:
More detailed instructions on setting up your contest account are here:
http://www.trade2win.com/boards/t2w...ew-t2w-forex-contest-starts-sun-15th-may.html
Prizes
- Top Trader (Highest P&L)
The prize for this contest is a fantastic iPad 2! Enough said =)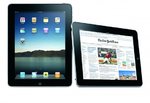 The new contest
will run for the month of Sept
so remember to add
"#T2W-SEP11"
to your account name.
Rules
- Contest started on
Sunday 4th September
at 6pm ET, 11pm BST.
- Contest finishes on
Friday 30th September
at 6pm ET, 11pm BST
- The prize is an iPad 2, 16GB, WiFi model.
- Enter any time before the contest finishes.
- The winner will be judged by their P&L for the 4 weeks.
- Accounts must remain public (not private) for the duration of the contest.
- Mirroring of trades to retain first position lead is disallowed and may result in disqualification.
- To qualify for the prize contestants must open at least one position.
- Only entry per person
- If you live outside the UK or US, we may have to offer you an alternative prize of the same value, depending on the prize and whether there are shipping and import tax considerations.
Good trading all
! :clover:
Last edited: