AUD/USD at Potential Support
Hello everyone! I haven't been posting here for quite some time now. Been busy working, working and working... I guess that's what most of us live for. Over the last years I have traded and worked with both retail and instutional traders and have leant a thing or two about markets. So, I thought it might be fun to post some potential setups every now and then. If this turns out to be fun and beneficial for both you guys (and girls) then maybe I'll keep on doing this. Let's see how it goes.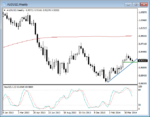 AUD/USD has seen three consecutive weeks of moves lower. The pair has now reached a potential support level with ascending trendline and a weekly low from a month ago. This is worth keeping an eye on in daily and intra-day timeframes. (Hope the chart is visible as the preview had some trouble showing it.)
Edit: it seems that the chart I Jinged (server at screencast.com) isn't working. Can anyone help me with this?
Edit II: Got the chart uploaded ok.
Last edited: