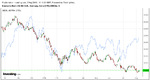 The daily candlestick chart above is of Deutsche Bank - with the Dax 30 overlaid with a blue line for comparison. You don't need much in the way of TA skills to work out something ain't quite right with the banking giant. Do a Google search or similar for
'could Deutche Bank fail?'
and there are lots of results that suggest this isn't just a possibility - it's a probability. And not just from flakey nutheads who would like to see it go belly up - but from some respected market commentators. According to
The Wall Street Journal
even the IMF recognize the bank is in trouble:
FRANKFURT—Deutsche Bank AG is the riskiest financial institution in the world as a potential source of external shocks to the financial system, according to the International Monetary Fund.
"Among the G-SIBs (globally systemically important banks), Deutsche Bank appears to be the most important net contributor to systemic risks, followed by HSBC and Credit Suisse," the IMF said in its Financial Sector Assessment Program.
Is Deutsche too big (to be allowed) to fail or perhaps it's too big to save? Some commentators put Deutsche at being five times bigger than Lehman Brothers, and the financial crisis that would result if they went down would completely dwarf that of 2008.
So, whaddya think - could Deutsche fail and what would happen if it did?
Last edited: