Way to go, way to go, bring on a couple of bottles any time.

Good to hear you had a good morning, happy you've got trading cracked !!!

One thing I agree on with F - don't ask who that is haha, all you have to check is who's got most posts in shortest time ever under his belt ;-) - is you need your 10k hours of practise before you get good at most things.

Bit worrying I find are the hours you keep Terrie, 5 am is still kinda the middle of the night for me.

Oddest thing ever, haven't heard that song you gave me in years, and just some minutes ago I hear it on the radio...

Mind boggling power the mind has.

Keep up the good trades.
well i dont know about having the trading cracked, very early days back! and a tiny account at moment.
find my brain works better in the morning. and after having 3 boys have had alot of practise!!!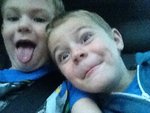 i know i was reading the old 'breakout' thread and then song popped up on a playlist!! gotta be a good omen!