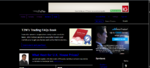 A windows update has just done this to my computer. Everything that had a white background is now black. Photos, icons etc still display as per normal.
How do I get my laptop back to normal?
I'm searching the web right now, but not having any luck, and I know there are quite a few tech savvy guys here.
Cheers
Last edited: