Cadjpy
Hi all,
Bit of a long term set up for you as opposed to the excitment of intraday (i'm a crap scalper!).
CAJJPY weekly chart below to illulstrate the long term view first. Price is currently hovering around the historically important 84 level and last week broke above an ascending TL in with relevance back to 1994.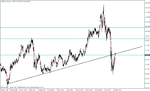 Next is the daily chart showing two ascending TL's which have been supporting/resisting the upward trend since the beginning of the year. Price finally broke through the long term TL a week back Friday and the perfect confluence was last Wednesday when long and short term crossed, giving neither a hammer nor hanging man (at least to my novice eyes).
Todays action is obviously bearish but if it fails to break the TL, the support and momentum is there to look for PA to go long with some confidence.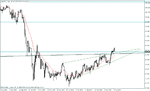 Hope this of interest to the thread (i'm more lurker than poster across here)