At 08:33 GBPJPY has hit what I regard as a rather significant level of statistical support (130.116) so I'm going to enter a long position here and hope for the best.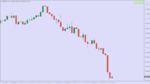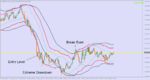 What I saw as a zone of statistical support was unable to keep GBPJPY from dropping below my entry level, but I'm not sure exactly how to use my envelopes to get closer to the true bottom without missing out on too much of it.
Recently, I was informed that someone who does not know how to let profits run should not trade, and of course, I'm all for anyone who uses that approach successfully, but as I continue to work to perfect a multiple envelope trade strategy, I just don't feel like I'm seeing profits "run" so much as they appear to pop, snap back, advance, retreat, grow, shrink, reverse and continue on.
It strikes me that if I'm long a position and I can see it has hit resistance, I should take my profit, let price retreat back to support, and then re-buy the asset as many times as it wants to repeat this kind of an ebb and flow action (as I did twice after exiting at break even) rather than watch my profits repeatedly disappear as I wait around hoping they come back.
Last edited: