In this thread I want to post some scalping levels for the upcoming trading day! Levels can be adjusted depends on how we run into them.
What are the scalping levels for $Apple today?
First let's go over some scalp short levels for apple 2day.
$460.00: pierce of the 200 moving average into a 61.8% retrace level.
$462.16 Gap window.
$465.33 Recent double top.
The scalp long levels are:
$448.26 : recent consolidation zone before a breakout.
$445.00 : pierce off gap fill $445.58 into a prior pivot high.
439.42: Gap fill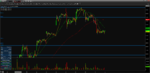 Kristof