Today I want to go over some scalp plays for Wednesday may 15. Today we saw a pretty solid push in the markets after some bullish comments from large hedge funds. As Trader you avoid news and use the charts to help you.
$TSLA : Big reversal today on high volume so the top will be in on this stock! I will only scalp the best levels it can overshoot so use a wider stop loss on these trades!
Short: $91.14 and $97.06.
Long: Pierce of $75, $69.26 and $64.07.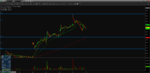 $AAPl: Today $AAPL was extremely weak from the beginning we were going sideways on this chart while the markets where screaming higher. The big levels for tomorrow:
Short: $421.24, $453.25, $457.70.
Long: $439.42, $435.25, $432.99 and $430.12.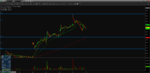 Kristof De Block