Recently I have been trying to come up with some new systems. When I do this, I often need to quantify concepts. My general thinking of stocks and how price behaves has been for a while now that: A stock that is going up is more likely to continue going up than change directions. The simple reason behind this being that the stock is "trending" and "has momentum". At face value, at least to me, this makes sense. I recently decided to put it to the test though to see if anything can really be gained from trading this way.
I tested this by doing the following:
If a stock has had "x" up days (as defined by an intraday close - open gain) in a row, the stock would be bought the next day at open and sold at close.
I varied "x" from 1 to 10. Obviously in the lower range, I don't think anyone would conclude a stock has momentum or was trending. In the upper range however, this would be the conclusion that I would make. So, my expectation was that in the lower range of "x" values, I would have about a 50/50 win/loss rate, but I figured that if the concepts of momentum and trend truly offer any edge towards trading, I would see at least a marginally higher win percentage with higher "x" values.
I tested this over a 2 year lookback period (7/13/15 to 7/13/17) on 1,430 symbols (~20% of tradeable symbols I have access to). The results are as follows: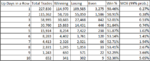 The first column (up days in a row) represents "x". The margin of error based on a 99% probability was calculated as well and is in the last column. From this though it seems pretty clear to me that there is essentially no meaningful edge to be gained from trading with the "trend" or trading when "momentum" occurs. This result distribution would be in line with what would be expected from a pure unbiased coin toss sample.
Anyone have any thoughts?