General analysis AUDUSD for 27.07.2022

Current dynamics
AUD/USD drops to 0.69450 ahead of major macroeconomic news on the pair
The pair AUD/USD, traditionally sensitive to the appetite for risk and dependent on it in direct relation, since the beginning of the trading week is in a downtrend, as a whole market is in an anxious condition, expecting the probable occurrence of economic recession. These concerns are dictated not only by steadily rising inflation and a consistent increase in the key rate of the U.S. Federal Reserve, but also negative forecasts about the prospects for economic growth in the whole world, including the Peoples Republic of China, heavily affected by prolonged restrictions caused by the epidemic situation around the pandemic of Covid-19. Another round of geopolitical tension in the world also affects the reduction of appetite for risk: the USA confronts China about its claims in the Taiwan issue, relations between Russia and European countries are complicated due to the news about a possible further reduction of gas supplies to the West. 
Negative statistics were released in the USA, showing a consecutive three-month decline in consumer confidence (95.7 vs. previous 98.4), new home sales in June (0.59 million vs. previous 0.64 million).
In Australia, experts predict the worst performance since 1990, probably in annual terms, it will reach 6.2%, which will inevitably provoke an increase in interest rates of the Reserve Bank of Australia.  The main reasons for such a surge in inflation in Australia is the energy and agricultural crisis, the global rise in prices for energy and food products.
The meeting of the Reserve Bank of Australia will be held on August 2, the main agenda is expected to raise the main interest rate to 1.35%. Experts believe that the most probable decision is to increase the rate by 50 basis points, at the same time the ceiling of its growth at the moment is forecasted at 3.35%, as the situation does not look inclined to stabilization and the cycle of tightening of the monetary policy, probably, will not end soon. The nearest step in the pairs development is for the U.S. Federal Reserve meeting, which is scheduled for July 27. Analysts expect the key rate to be raised by 75 basis points at once this time.
Support and resistance levels
Alligator is sleeping: the moving averages are twisted, the instrument is flat. The nearest fractal below the alligators teeth (red line) is at 0.69340. Awesome Oscillator (AO) and Accelerator Oscillator (AC) are in the gray area, showing a divergence, which is not a reliable signal to open a position.
✔️ Support levels: 0.69340, 0.69040, 0.68720.
✔️ Resistance levels: 0.70510, 0.70150, 0.69760.
Trading scenarios
✔️ Short positions should be opened at the 0.96800 with a target of 0.69040 and a stop loss at 0.69550. Implementation period: 1-2 days.
✔️ Long positions can be opened above the level of 0.69760 with a target of 0.70150 and a stop-loss at the level of 0.69550. Implementation period: 1-2 days.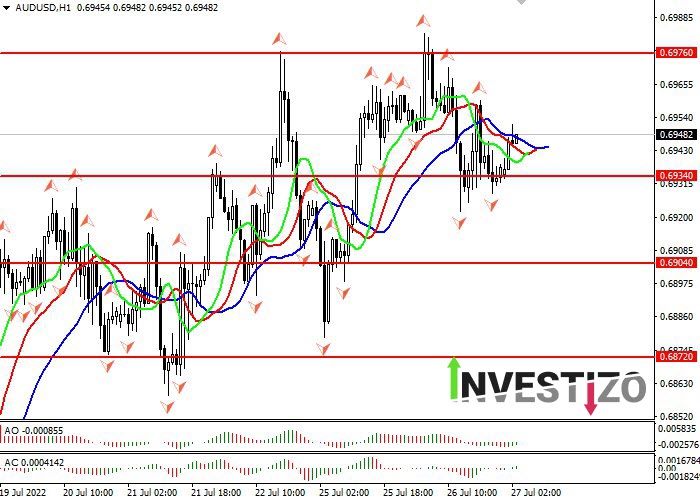 More analytics on our website

Analytical department investizo

Disclaimer:
This material is provided as a general marketing communication for information purposes only and does not constitute an independent investment research. Nothing in this communication contains, or should be considered as containing, an investment advice or an investment recommendation or a solicitation for the purpose of buying or selling of any financial instrument.