I'm downsizing which involves having a good clear out in general and, in particular, a severe pruning of my trading library. In due course I'll be creating a thread in the 'For Sale & Wanted' forum to sell on the books surplus to requirements. To get an idea of what to charge I've looked up each book on Amazon. An issue that keeps recurring is the extreme range of prices being charged for the
same book
. I take into account obvious stuff like paperback Vs hardback, 1st edition Vs later editions and the condition of the book etc. but, even so, the difference between the highest and lowest price is often considerable. This makes pricing the books I want to sell rather difficult. By way of example take this book:
Charting - Analysis for the Intelligent Investor by Alistair Blair
Here's a screen grab showing how extreme the price difference can be for what is essentially the same book. And the really surprising thing (to me anyway) is that both books are being sold by
the same seller
. . .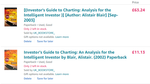 So, can anyone shed any light on all of this? Am I missing something or, as appears to be the case, there's really no logic to it?
Tim.