You've taken a position in an up-trending stock and it's been moving up nicely. It's even broken out of the range that it has been in lately on increased volume, the daily range has increase and the close was near the high of the day. All technical indications are great and point to prices moving higher. The next day it happens. What all swing traders and investors fear, a gap lower under the prior days' lows.
The scenario described happens almost on a daily basis and provides day traders and in this case the morning gap trader with an event to focus on. BTW, morning gap traders are those that look to trade the first 2-hours of each trading day, more or less after the open. These gapping stocks offer high odds opportunities for those with a stock trading education and a plan to trade those gaps.
This week I am going to show you one way to form a bias on one type of a gap and a trade setup to consider using in the future. The majority of morning gap traders would have had it on their radar. However, those traders may have approached the setup in different ways other than what I will show you. There can be many ways to trade the same event, based on your plan.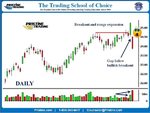 Above is the daily chart of the stock that gapped sharply lower at the open. The gap was below the day's prior low, which had cleared the prior range highs decisively. A move above the highs with an expanding range candle on increased volume and a close near the high of the day is bullish – normally. And that's why this large gap lower is such a shock to traders that are long overnight.
There was nothing prior to the gap down that would have suggested such a bearish open. However, that big bearish gap down creates the opportunity for gap traders. The odds are so against prices recovering completely from such a gap, and for that reason most gap traders look for prices to move lower. That being said, the big gap down creates a void of overhead resistance, which makes a short entry a little tricky. Let's look at what to do.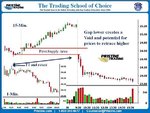 Based on our method and in this case a short-sale entry, we want an area of resistance / a supply of sellers in the area of the setup. Without resistance to the left the odds of a whipsaw after entry and then a reversal are higher. By looking at an intra-day time frame (in this case the 15-min.) we can see what is to the left to spot the areas where the sellers should show up. I have marked that area first resistance on the chart. Now we have a focal area where a setup should form. It doesn't have to of course, prices could move up to the next area. Once a setup does happen in the area needed we can act on the setup according to our plan.
What formed was a Topping Tail on the 1-min. time frame when prices retested the area of the resistance / first supply from the prior day. The entry was below the TTs low with a stop-loss above the high. As you can see, prices did not decline right away. This isn't uncommon, so patience is needed for the setup to play out.
We do not trade from the 1-Min. time frame (according to the Pristine Method® of trading) unless the analysis from higher time frames support a bias to move down to such a small time frame. Many new to trading believe that small times frame offer lower risk entries. Without the bias from higher time frames that lower time frame can be similar to a thousand razor cuts. Eventually, they will kill your account equity through small losses and commissions.
All Pristine strategies have planned setups with multiple technical concepts in alignment with each other. This is what makes for higher odds trading or investing opportunities. This is regardless of the instrument being used to trade. This maybe contrary to what you have been taught, but it's true. Whether you are trading stocks, commodities or Forex, the foundational concepts are the same.
Sign up for this week's After Market Lessons and you will see what I mean. We will have workshops with Forex (currencies have been on fire!) and Stock pattern setups with the reasoning for them explained. If you speak Spanish, join us Wednesday night at 8:00pm for Trading Gaps! We hope to talk to you then.
Should you have any questions feel free to email
[email protected]