I'f they were conning people surely they wouldn't still be filling placements on courses? As all of their custom is via word of mouth

I really am confused by all this 'hatred' towards MTA Live and its company members.

Regards,

Matt
I think you will find there is no hatred towards MTA Live, simply an education of facts backed by evidence that is in peoples best interest. Please identify any post I have made that you class as hatred. The only hatred has actually come from MTA towards posters on this forum.
And now for your statement
"As all of their custom is via word of mouth"
.
Really, are you sure about that, are you perhaps bending the truth ?
Here are just
2 adverts I found in 2 minutes searching
for the upcoming course in Ireland. So much for just word of mouth.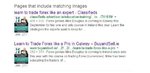 Oh and then there are the numerious Facebook accounts, twitter postings, websites etc.
And I haven't even mentioned all the promotions in South Africa.
Last edited: