Some of the best investing and trading results I have had in recent years have been from riding on the coat tails of investors far brighter than myself, investors who have done far more research on a company than I will ever be inclined to do myself.
It can be a tedious process following all the dealings that get reported through the RNS announcements, but I try to maintain a list of major stakes and holdings in nearly three hundred UK companies. This allows me to keep track of who is increasing or decreasing their stakes in certain key companies. (see this
sample)
Companies Act disclosure requirements allow private investors to keep track of the activities of shrewd investors who have a proven track record of successful investing. Websites, such as Citywire, also dig around below the surface by accessing shareholder registers, to discover early stake building below the reportable 3% level. Proven successful investors often have a wealth of experience, and are much better placed to make successful investment decisions in less-researched smaller companies than private investors will ever be.
A couple of things are worth noting:
Small investors who follow bigger stake builders have an advantage in that they can nimbly move in and out of positions quickly. A large shareholding, however, can be hard to both establish and later exit, and so dictates a degree of commitment. Smaller investors can follow but enter and exit at will.
Because takeover rules limit stakes to 29.9% without making a mandatory takeover offer, some share price weakness can ensue after the stake builder increases their stake rapidly to that level, and then stops without bidding. Stake building in a company that starts to approach 29.9% can be both bullish and bearish for the share price in the short-term.
Shrewd investors
Listed below are some of the shrewd investors and shareholder activists who invariably seem to spot value in companies at an early stage, and whose lead it can be profitable to follow.
Jack Petchey (Trefick)
Property entrepreneur, Jack Petchey, acquires stakes in listed real estate companies trading at significant discounts to NAV through his Isle of Man investment vehicle, Trefick. He also has considerable experience in the motor distributor sector, and has had a great deal of success investing in the sector. He takes large stakes in companies, and puts pressure on management to restructure in order to maximise shareholder value.
Time and again companies that Petchey invests in become takeover targets shortly afterwards. The most recent example being property company, Estates & General, which was bid for by Winten, shortly after Petchey accumulated a 29% holding.
A common strategy he uses is to launch tender offers for his target, which can be a good barometer for gauging how loose or 'sticky' shareholders are, as well as demonstrating how undervalued the company is.
Saville Gordon eventually agreed to buy Trefick's 29% stake in December 2000, to get him off the shareholder register (in what was, effectively, greenmail), and was eventually taken off the market in an MBO in May 2002. Petchey is a classic facilitator.
Peter Gyllenhammar
Swedish activist investor, Peter Gyllenhammar, specialises in companies trading at substantial discounts to net asset value or in need of restructuring, often through his investment vehicles, Erudite, Förvaltnings AB and Silverslaggen. He often seeks board representation and works closely with management. Gyllenhammar has a background as an analyst and corporate finance advisor to several major Swedish corporations. He has interests in a number of UK public companies, and is chairman of British Mohair Holdings, and a director of Browallia International. Current significant holdings include Densitron Technologies, European Colour, The Jarvis Porter Group, Lonrho Africa and The Sherwood Group.
Bob Morton
Arthur Leonard 'Bob' Morton is well known as a serial and entrepreneurial West Midlands investor, who often utilises his investment vehicle, Southwind, to make strategic investments. He returned several times his investment when he took a 15% stake in Tenon, the accountancy and professional services firm in February 2003. He is believed to be worth more than £100m, has investments in over twenty quoted companies and is chairman of numerous companies, including Armour Group, Harrier Group and Systems Union.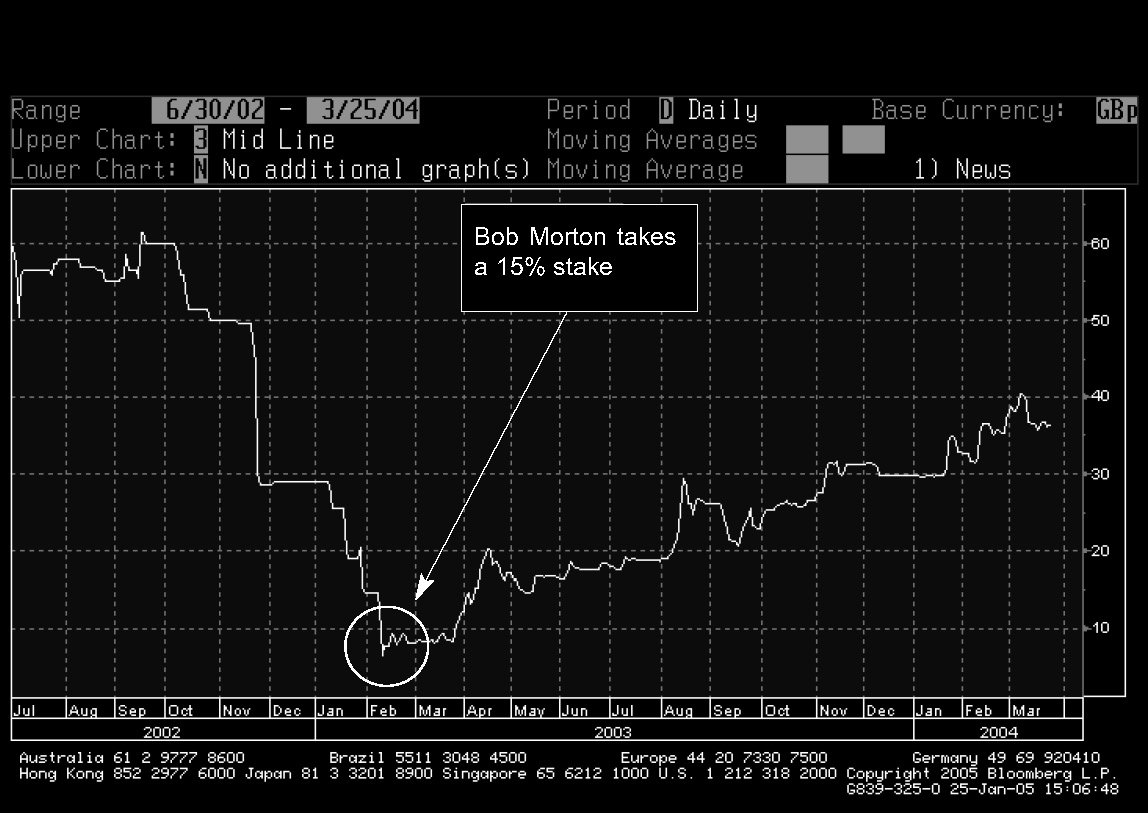 Jon Moulton (Alchemy Partners)
Jon Moulton is best known for founding Alchemy Partners in 1997, a private equity advisory business, which specialises in buy-outs, buy-ins and the provision of later stage development capital. He's estimated to have made more than £10m from a modest investment in Bookham Technology.
I followed Moulton?s lead when he increased his stake in Infast in April this year and the company received a bid approach a few days later that resulted in an agreed cash offer at more than a 40% premium to the undisturbed share price.
Martin Hughes (Toscafund)
A former deputy CEO and head of research at Credit Lyonnais Lang, and Number 1 rated banking analyst in the mid-1990s. Before setting up his own hedge fund, Toscafund, he was head of global financials at Julian Robertson's hedge fund Tiger Management. Toscafund uses a bottom-up approach to selecting equity securities and takes both long and short positions. Toscafund currently has significant holdings in AMEC and Manganese Bronze.
Dermot Desmond
Financier Dermot Desmond is a billionaire shareholder in Celtic and jointly owns the Sandy Lane Hotel in Barbados with John McManus. Investment vehicles include International Insurance & Underwriting (IIU) and Crossbill, which held 5% of TBI, the airports operator, before it was recently taken over.
In February 2004, Desmond's investment vehicle, Bottin International Investments, bought heavily into Barlo, the Irish radiators and plastics maker, while it was subject to an MBO at ?40c per share led by CEO Tony Mullins. A few weeks later, Quinn Group trumped the proposed MBO with a successful ?48c per share offer and Desmond cleared an estimated ?2m.
His investment in Manchester Untied was vindicated when the club eventually succumbed to a 300p per share cash offer from Malcolm Glazer.
Hanover Investors
Hanover Investors is a turnaround investment specialist that combines the injection of fresh capital with hands-on operational management involvement by its principals.
Hanover principals, Edward Bramson and Matthew Peacock, have extensive buy-out and corporate finance expertise as well as in-depth practical experience of operational management.
I first noticed Edward Bramson appear on the shareholder list of 4Imprint on 28th July 2003, and he continued to increase his stake with Hanover accounting for 26.6% of the shares at one point. I followed their lead, invested in 4Imprint, and sold out after a reasonable return some months later. Hanover eventually reduced its holding on the release of final results on 29th March 2004, the first opportunity that they had as the directors were restricted during the close period. Hanover popped up in early 2005 with a 10.3% stake in Elementis, and have since gained board representation and increased their stake to 15.11%. One to keep an eye on.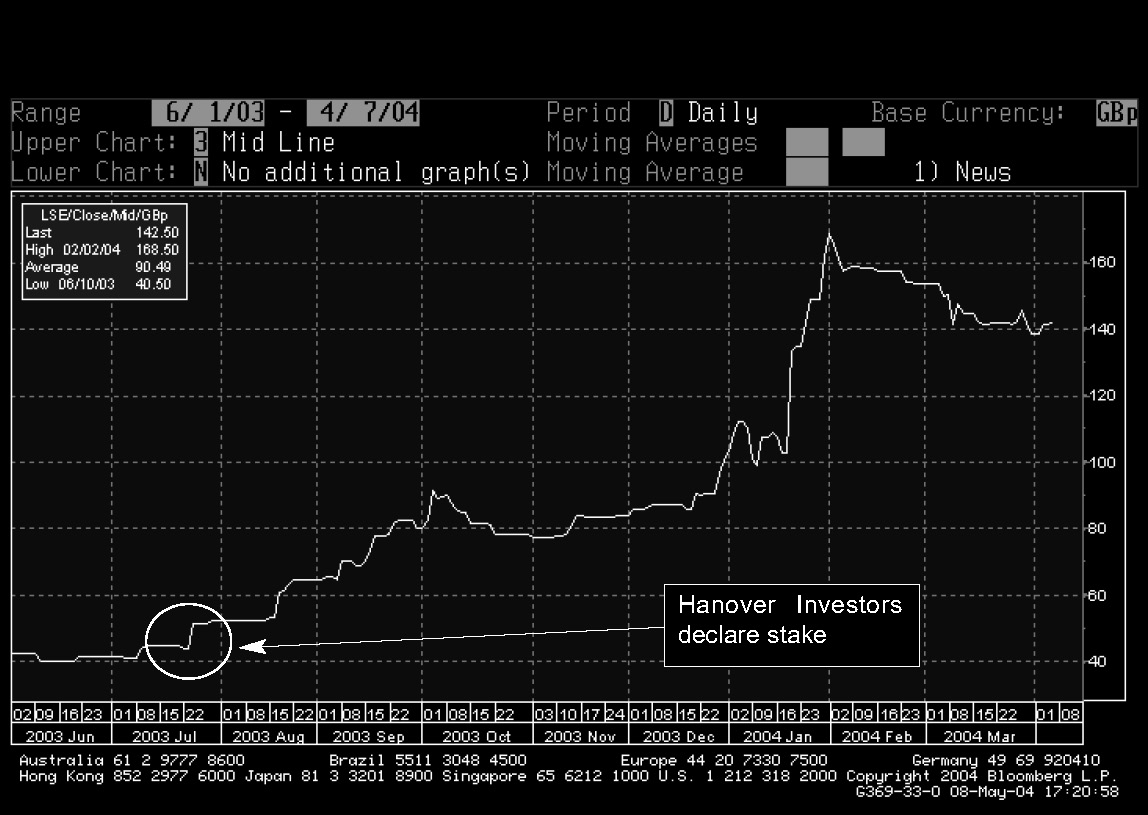 Lansdowne Partners
Lansdowne is a secretive West End-based hedge fund boutique run by ex-Mercury fund managers Stuart Roden and Peter Davies since 2001. Recent successes have resulted from substantial holdings in Arcadia, Burtonwood, Harvey Nichols, Waste Recycling and Manchester United, all of which have received takeover approaches or been taken over. Landsdowne's current significant holdings include Evolution Group, Hiscox Group, Manganese Bronze, Newports Networks, Pinewood Shepperton, Peter Hambro Mining and Soco International.
Taube Hodson Stonex
THS is run by legendary investor, Nils Taube, assisted by fellow partners Cato Stonex and John Hodson.
THS first came to my attention when the fund bought a substantial holding in Burford, the property company, shortly before it was taken over. Although focussed on longer-term strategies, the fund is not immune to taking short-term positions where it senses an opportunity. THS made a very useful turn buying into, and selling out of, Safeway during its takeover by Morrisons. It also immediately sold its entire holding on the day that WHSmith announced that it had had an approach from Permira, almost at the high watermark.
Shareholder Activists
Guinness Peat Group (GPG)
A classic deus ex machina, GPG is an activist investment group founded by New Zealander, Sir Ron Brierley, and assisted by Blake Nixon who runs the UK arm. A common theme adopted by GPG is to target companies with good tangible assets, often cash-rich, which are perceived to be poorly run.
However, GPG appears to have met its match with its investment in the family run Young & Co's Brewery. Although there is no dispute that Young's trades at a significant discount to net asset value, so far, the company has fought off the unwanted attention of GPG, mainly because of the unusual share class structure, allowing a minority holding to wield a majority of the votes. A good example of why publicly listed, family companies often trade at a discount.
GPG has also had successes in the motor distributor sector, where a 20% stake in Quicks, the motor dealer, paid off when CD Bramall subsequently launched a bid in March 2002.
Laxey Partners Limited
Laxey is an Isle of Man based active value company, led by investment trust busters, Andrew Pegge and Colin Kingsnorth. Laxey's investment strategy is to take active positions in companies which are trading at a discount to their underlying assets, including closed-end funds and cash-rich companies. Laxey Partners also runs the Value Catalyst Fund, an offshore closed-end investment company. Recently, Laxey has taken advantage of bombed-out internet and technology companies trading below the value of cash on their balance sheet. For value investors it is well worth taking a look at companies where Laxey appears on the shareholder's register.
Laxey also hit the headlines when it targeted British Land, and borrowed a line of British Land stock for the sole purpose of utilising the associated votes to increase their influence at an AGM.
JO Hambro Capital Management
JO Hambro is an activist UK fund manager, run by Chris Mills, that specialises in accumulating large majority stakes in listed companies, particularly those trading at discounts to net asset value, cash on the balance sheet, or just trading on a low rating. Hambro then puts pressure on the company to realise value for shareholders, sometimes through initiating corporate activity. In 2003, JO Hambro diversified its investment management activities into four entities, and the active value and private equity investment business is now incorporated into North Atlantic Value LLP.
Dawnay, Day Group
Dawnay, Day is a property investment and financial services group of companies with combined gross assets of more than £1.5bn, owned and run by Guy Naggar and Peter Klimt. They recently took control of cash shell Amberley, which is likely to be used for a future deal. The group's two major property holding companies are Dawnay, Day Properties Ltd and Starlight Investments.
Both men look for undervalued public companies with strong assets which are cash flow positive, and, although they are not asset strippers, they have made a number of shrewd moves in the last few years and are worth following.
Naggar and Klimt have two private investment companies, ForwardIssue and Totalassist respectively, which often take stakes in companies through CFDs. Naggar is also Chairman of Paramount, which owns the Chez Gerard restaurant chain. Dawnay, Day backed the floating of Volvere, chaired by former Dixons Chairman Sir Stanley Kalms, an activist and value-seeking investment vehicle on AIM in December 2002.
Judges Capital is another activist vehicle backed by Dawnay, Day that listed on AIM in January 2003, activist David Cicurel is Chief Executive. Judges seeks to acquire strategic stakes in undervalued quoted companies where it can initiate a break up or cash distribution.
Acquisitor Holdings
Acquisitor Holdings is a Bermuda-based activist shareholder that listed on AIM in October 2002, after being spun out of Acquisitor (which has now been reversed into Tinopolis), with the simultaneous transfer of 90% of the assets of Acquisitor. Acquisitor Holdings specialises in cash rich situations and shell companies, such as Baltimore and Nettec, where it has substantial holdings. Directors include entrepreneur Luke Johnson and Chris Mills of JO Hambro.
According to Managing Director, Duncan Soukup:
"Acquisitor fills a gap in the market – it bridges the gap between private equity and public equity. We look at the public market with private equity eyes, but take decisions in the public market based on business analysis rather than stock analysis. Then we try and unlock or create value to narrow the discount between the private market value and public market value."
Active Value
Active Value is probably the best-known shareholder activist and its principals, Brian Myerson and Julian Treger, are now often referred to as veterans. Large current holdings include Communisis (7%), Corporate Services Group (46%), Marylebone Warwick Balfour (22%) and Novar (17%). At the end of 2004, Myerson and Treger announced that they were going their separate ways and would gradually wind down their existing strategic holdings.
Steel Partners II
Steel Partners is a New York based hedge fund that came to my attention during 2004 when it appeared with an 8.12% holding in the UK company API Group, which was going through a restructuring to concentrate on its core foils and laminates products. Steel Partners continued to increase its stake to 15% in November, 20% in December and then very quickly took it to the maximum 29.99% possible without bidding, in January 2005. Meanwhile the share price had run up from 80p to 120p. To aggressively take this stake to the permitted maximum is a very bullish signal in my eyes, and I quickly bought some shares at around 120p. The company subsequently announced that it had received a bid approach on 11th February and I took my profits at around 148p, although needless to say the stock continued to run up to 175p and, at the time of writing, is still in bid talks.
Paul Scott
One of the real gems on the internet is Paul Scott's little known board on Motley Fool named Paulypilot's Pub. The board attracts a unique collection of individuals, many with a proven investment track record. Scott himself is an ex-finance director for a retail chain and has had many recent successes both in smaller companies and cash-rich situations where he has, on occasion, become an activist. His site can be found at: boards.fool.co.uk/Messages.asp?bid=51144
Conclusion
Stake building is often a prelude to corporate activity but even without a subsequent takeover bid, it strikes me that traders can benefit greatly from keeping track of  where the clever money is going.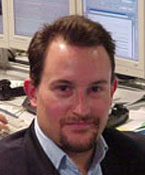 Dominic Connolly is the author of the best selling book, 'The UK Trader's Bible". During his career in the City, Dominic Connolly has worked for ...