Futures Truth Magazine
John Hill started Futures Truth to bring truth to the trading system industry. The system trader is besieged year in and year out by promises of the HOLY GRAIL. As all system purchasers find out sooner or later, systems very rarely live up to their billing. You may ask then, "Why System Trade?" And the answer can be summed up by following fact: Ninety percent of all money under management is traded by systematic methodologies.
Futures Truth tracks all the systems that are submitted to them by the vendors. In addition they track systems that are submitted by clients of the vendors.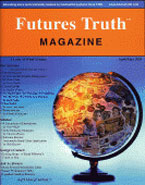 Publisher: Futures Truth Magazine
Country: United States
Website: http://www.futurestruth.com/
Frequency: Monthly
Subscription: $69.95 for an annual subscription or $12.95 per month
Address1: 294 N. Hillside Rd
City: Hendersonville
County: NC
Postcode: 28791
Phone: 828-697-0273
Fax: 828-692-7375
Email: info@futurestruth.com
Member reviews
Pretty Good
A very informative magazine, well worth the time to consult once in a while.
good for reference
If you are a systematic trader, this magazine give you a good reference of avalible commercial trading systems. Also with articles that are very intereting.
1 - 2 of 2
You need to be logged in to post reviews