Stocks & Commodities
Technical Analysis of STOCKS & COMMODITIES, The Traders' Magazine, has been the premier magazine in the field for many years. It's a how-to guide for traders -- and traders-to-be -- who want to play the markets with a concrete game plan. Every issue of STOCKS & COMMODITIES provides the latest, most detailed information on technical trading strategies, charting patterns, indicators, and computerized trading methods.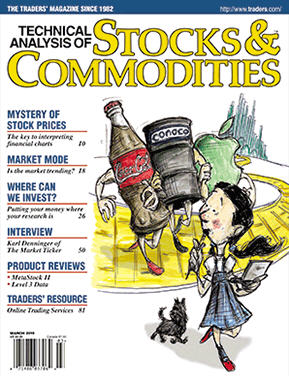 Publisher: Technical Analysis, Inc.
Country: United States
Website: http://www.traders.com/
Frequency: Monthly
Subscription: $49.95 per annum
Address1: 4757 California Ave
Address2: SW Seattle
City: Seatte
County: WA
Postcode: 98116-4499
Phone: +1 206 938-0570
Email: circ@traders.com
Member reviews
Decided to give it a try
Offer to try before you buy
Had some good ariticles, had a look in in archives, I like tech formula and didn't find it old fashioned perhaps because I am ? Looks like good value. may update reveiw in future
Mix of Good and Classifieds
Whether it is a sign of the times, but TASC is in need of a makeover. The 90s look to the magazine is dated and the list of classifieds at the back has more in common with Escort agency ads than serious financial products. This distracts from the real content of the magazine. Emphasis is placed more on data - not writing - which may be off putting for some. The magazine covers a broad sweep of technical related content, not just Strategies (which Active Trader plays heavier focus on). Good interview series with Product and Website reviews which flesh out the data-centric parts of the content.
Top Trading Magazine
Imo, this is the best trading magazine around, a must read for all active traders.
not my favorite
TASC presents a lot of TA ideas, but doesnt really get down to the meat of analysing what really works and what doesnt. Seems to be a bit of a springboard for every glory seeking trader-cum-publisher to show their "well picked examples", and a lot adverts for snake oil salesmen trawling for business with miracle systems in between.

Still, some good interviews in there too and some good analysis ideas if you do your own critique.
TASC
I would say TASC is the worst of a bad bunch. Basically a shill for vendors, a real trap for newbies.
Technical Analysis of Stocks and Commodities
The top TA Mag, this is focused on developments in TA and does well in this respect, around 10+ articles devoted to TA methods. I went for 4 in two areas as some of the TA ideas can be unusually bad, particularly lacking an objective perspective.

You also get a range of articles such as interviews of well known professional traders, Market Makers and TAs. Thorough coverage includes a look at software, websites books and just about all trading tools. TASC also covers new developments in the trading industry such as regulation or new instruments on the market eg. single stock futures and e-minis.


TAS&C
This is THE magazine for TA, until I find a better one anyway. Each issue has a good sized bunch of clever ideas in, and some I class as total garbage admittedly... even the daft bits often contain nuggets in my view.

I'm fairly minimalist - if you want indicators and RSI/MACD/OBV or MF can't do the job then you aren't trying I find the articles where somebody reverse engineers the RSI to pick price targets provided the wind is blowing the right direction to be irksome. HOWEVER, this is THE place to go find articles by the greats of TA before they ossified, and if you can bear to wade through the occasional mire you do pick up ideas you can adapt for yourself - I take little from it directly, but it often inspires me in interesting directions. One day 'useful' will replace 'interesting' in that sentence.

The 5 year sub is good, you get the past 20 years on a CD as part of the deal, plus a free book, various bits and bobs on a CD, and probably an invite to the staff party.

It's got some good writers, interesting interviews, and is genuinely useful on occasion - I'd rather have one copy of TAS&C than a year's supply of IC.

Dave
TASC
TASC is a very good TA magazine, with a coverage that is both broad and in-depth.

But... it also has an uncritical approach to TA techniques - the articles it publishes seem to assume that any TA technique is equally valid. I'd like to see more critical analysis of whether some of these techniques actually work - for example, the recent review of some software for Gann magic squares.

They're also very gentle in their reviews - they seem very nervous about upsetting advertisers - they don't publish comparative reviews, and seem absolutely determined to be positive about everything

The subscription delivery is also really erratic - nothing for 6 weeks then 2 magazines within days (and not necessarily in the right order). My sub copy also arrives well after the magazine hits Borders, which is pretty annoying.
TASC
TASC is an awesome mag for traders of all time frames. I have been a reader for 4 years.

I recommend TASC to all..
1 - 9 of 9
You need to be logged in to post reviews