Identifying Budding Trends with Bollinger Bands
Bollinger Bands
are among the most commonly found technical
indicator
s these days.  Even the most basic of
chart
ing applications include them among the available offerings.  There are many ways the Bands can be incorporated in to one's market analysis and trading methods (see
Bollinger Bands – The Basic Rules
for a discussion).  This article focuses on how they can be used to find markets in the early stages of significant directional moves.
The process of trend identification using Bollinger Bands starts with evaluating the width of the Bands.  This is done using the Band Width Indicator (BWI), which is calculated as follows:
BWI = ( UB – LB ) / MB
Where UB is the Upper Band, LB is the Lower Band, and MB is the Middle Band.
Using the common default setting of 20-periods, that means the MB is the 20-period moving average.  That default will be the one used in the examples provided herein, though it is by no means necessarily the best option.
The formula above will express the width between the Bands as a percentage of the moving average being used.  It could be multiplied through by 100 to provide an integer value (as done on the sample charts).  The average (MB) is used rather than current price because it is the central point in the Bands, whereas price could be anywhere within (or even outside) them. 
The reason for calculating BWI is that it gives us a normalized reading of how wide the Bands are for comparative purposes.  A 100 point band width on the S&P 500, for example, is relatively different when the index is at 900 than when it's at 1500.  The chart below provides an example of BWI.  It is a daily chart of USD/JPY with the Bollinger Bands plotted along with price in the upper portion and BWI as the secondary plot below.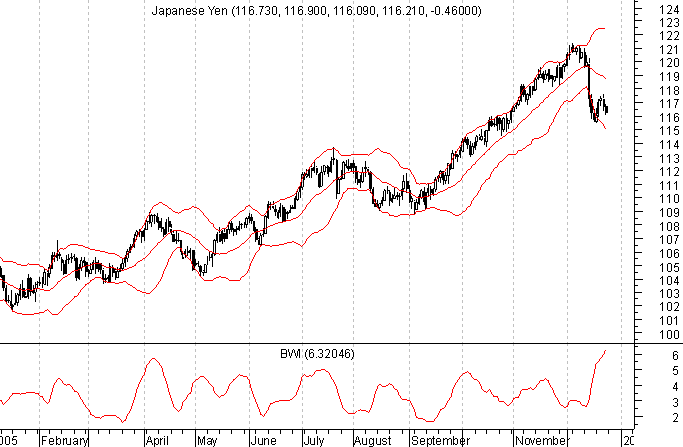 As you can see, BWI ranged between a bit below 2% and about 7% over the course of 2005.  It is the lower extremes in the indicator readings which are the focus when one uses Bollinger Bands to help identify pending trends.
Continuing with USD/JPY, we can see a fairly recent example of what we are looking for here.  Notice in the chart which follows, how narrow the Bollinger Bands became in September.  According to BWI, they got to a width of less than 2%.  Shortly thereafter, the market took off on a three month rally.