Trading Arcades
What is a trading arcade?
A trading arcade, proprietary trading group or trading bureaux are some of the commonly heard names for a company that provides risk management, additional leverage, professional software and hardware infrastructure, trading facilities with analyst support and sometimes training and capital backing to traders in return for a share of trading profits and/or commissions.
At an arcade, you would typically find a spacious trading room filled with desks: well equipped work area's with high spec workstations, arrays of screens and terminals providing access to market data & depth, quotes, charting, Reuters, Bloomberg, Sky TV and the all important trade execution platform. The name trading arcade probably originates from the fact that the rows of traders facing screens bears an amusing resemblance to a video game amusement arcade full of kids.
The origin of Arcades
With the rapid expansion of electronic trading and the demise of open outcry as many exchanges close their trading floors, a whole community of professional floor traders was on the street looking for a way to salvage their livelihood and duplicate some aspects of the floor trading environment. Many of these former locals formed their own trading firms as they made the transition to the screen trading. These trading firms came to be known as arcades, and since the majority of traders were former pit traders the definition of a local came to include pro screen traders at arcades.
While there is no precise data available on the share of futures trading that Arcades account for, the evidence suggests that it is significant volume. Euronext estimates that independent traders, its term for screen based locals, individuals and firms trading for their own accounts, make up about one-third of the entire universe of people trading on its Connect platform. Trading Technologies, the software vendor used by most local and professional traders claim to account for as much as 50% of the total futures volume traded around the globe.
Why trade with an Arcade?
There are numerous advantages which I will detail below:
Commission Costs. A professional trader's biggest 'cost of doing business' is the commissions he pays. The primary advantage with arcade affiliated trading is the huge savings that can be made in the costs per roundtrip trade (roundtrip =  an opened and closed trade). The total number of executed roundtrips at an arcade can easily number into the millions of trades monthly. The arcade as an entity therefore has huge buying power and can use this to negotiate ultra low commission rates with the clearing firm that a standalone trader could never expect to receive.

As an example: A pro trader might easily execute well in excess of 50,000+ round-turns  in a month and pay perhaps 60p per round-turn trade his total monthly commissions paid at that rate would equal £30,000.00.  By contrast, a retail trader paying retail brokerage commissions at a company like TradeStation would pay $5 round-turn or approx £2.65 so the same quantity of roundtrips at this rate would add up to a whopping £132,500.00 of commission!! (as a further comparison, spreadbetting firm Finspreads are today quoting a spread of 1.00pts on the March S&P futures equivalent to an incredible $50.00 commission for an equivalent point value trade as the futures contract)

So for every 10p saved in commissions in this example makes an extra £5000.00 in savings/profits for the traders account. Competitive transaction costs are a large part of ensuring a trader succeeds when the trader is scalping from tiny inefficiencies in the market pricing. The arcade will provide additional volume breaks, usually on a sliding scale so that the more volume is traded, the cheaper his commissions will progressively be.

The arcade itself is a business in its own right, providing a service to traders, so the commission rate the arcade will pass to traders will typically include a margin for the arcade as a business. This is to be expected however, and the rate the trader receives will usually be highly competitive as you can see from the above example.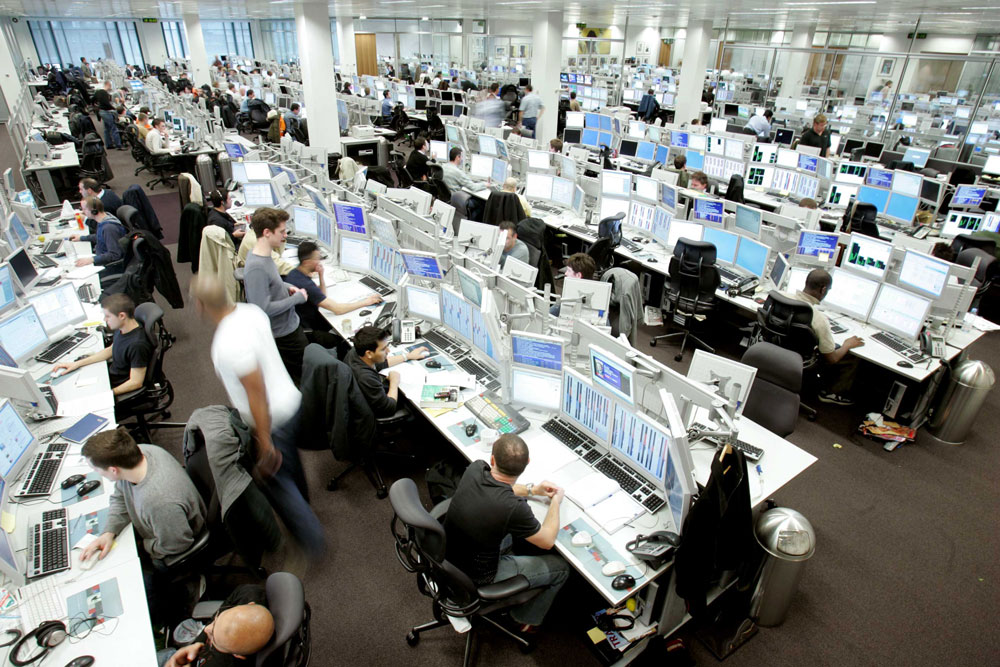 caption: Refco Trading Services, London Bishopsgate trading floor