Trade Management Q&A
We can spend hours searching for the perfect pattern but fail miserably when its time to turn opportunity into profit. As it turns out, most traders do a poor job managing positions, regardless of experience level.
I've received hundreds of questions about this subject over the years and have complied them into a Q&A to help you make the right choices during the trading day.
Q – What time-frame charts do you use in real-time?
A – I track daily, hourly, and 15-minute charts for all my setups and positions. I don't look any other time frames, except for an occasional glance at the weekly charts. This arrangement doesn't change with liquidity, sector or any other variable. I watch these charts simultaneously on three screens, so I don't have to toggle back and forth.
Q – Should I trade with limit orders or market orders?  Does it matter whether it's a buy, a sell, or a short? Do you use mental stops or physical stops? 
A – I trade through a direct access interface and use limit orders exclusively. I've never placed a market order on a short sale, and don't recommend it under any circumstances. I use mental stops 90% of the time, because I'm in front of my screen all the time. I trust myself to take an exit when the time comes.
Q – Do you favor avoiding trades at the open?
A - Swing trading is price sensitive rather than time sensitive, so we take our trades when they trigger. This can happen at the open or in the quiet of the midday markets. But I still recommend new traders stay away from the first and last hours. They get fooled by the volatility and haven't learned the skills required to take advantage of these periods.
Q - Are whipsaws created purposely and if so, who is creating them?
A - Some whipsaws are intentional, but more often they occur at obvious support and resistance levels which draw in a legion of countertrend traders. In other words, while it's your plan to buy a breakout, someone else is just as convinced a breakout will fail so they sell existing positions or enter new short sales.
Q - How do you know when it's safe to put on a position, with all the whipsaws and fakeouts?
A – Breakouts and breakdowns either go or they don't go. Most of the time you can't tell the difference. Your only course of action is to control risk and take the trade to its logical conclusion.
In a way, you're asking the ultimate Zen trading question: how do I know I'm right? Zen answer, there is no right and no wrong. You manage risk. Do that well, and you're right.
Q - How do we deal with stop gunning?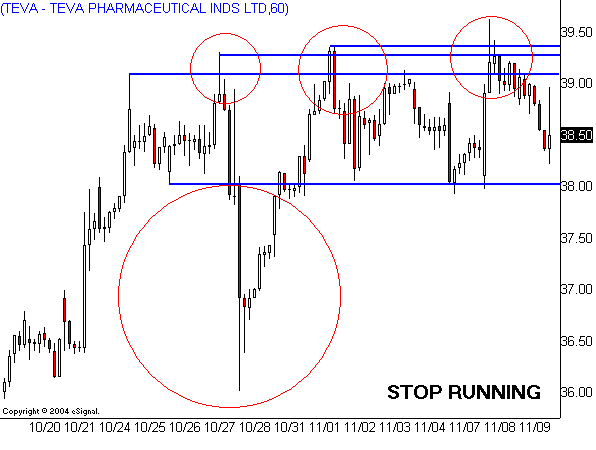 A – Notice how Teva Pharmaceuticals (TEVA) ran through four stop gunning exercises in twelve sessions, without price moving out of the sideways pattern. This behavior usually occurs in choppy markets. When there's good order flow, insiders have little interest in generating artificial volume.
Stop gunning is a fact of life in market dynamics so don't try to fight it. Instead use it to your advantage.  Stand aside when they occur and wait until you see exhaustion at support or resistance. Then scale into new positions with tight stops.
Q – How many active positions can I manage each day?
A – There are two guidelines to follow. First, what's your skill level? Are you an experienced trader or a new one? Newbies should carry fewer positions at one time. This lets them focus their attention on the action, and not get stressed out when decisions need to be made.
Second, how much time do you have to devote to the markets?  You can trade more stocks if you have a lot of free time. If your time is limited, you need to limit the number of open positions. Also, some traders are more organized than others. Can you "multitask" in real time, i.e. do different things at once without losing concentration? If so, you can probably trade numerous positions at one time.