All you wanted to know about Gold
Without a doubt, more people follow the price of Gold than any other commodity in the world, and with good reason. Gold, that archaic, barbaric, precious metal men and women have coveted since the dawn of mankind, not only presents wonderful opportunities for making money, it also continues to have a major impact on currencies, interest rates and markets across the globe.
Four factors that influence Gold

While there are many factors that have some impact on this glittery metal the ones that I have found to have the most impact are:
The US Dollar Relationship 
Stockmarket Crashes/ Depressions 
Let's start by looking at the relationship between gold and dollar index , specifically the United States Dollar.  What seems to be going on is that Gold can only rally "so far" above the U.S. Dollar before it takes a tumble.  It is difficult to see this relationship by looking at charts, but it is quite easy to see when you look at the spread relationship between these markets.
The relationship that I like to look at is arrived by taking the spread between these two markets, on a weekly basis, then compiling a 3 week moving average of the spread and a 21 week moving average of the spread.

In order to see the "push-pull" of the spread, I then subtract the 3 week moving average from the 21 week moving average. Dividing that answer by 100 results in a uniform ratio, thus all points in time can be looked at on a consistent scale.

In doing this I have noticed that when this ratio gets "out of whack" - that is the 3 week spread to the 21 is greater than 30% - a market decline in Gold will shortly exhibit itself.  In other words, Gold can become overbought vs. the US Dollar and at that point, large sums of professional money come in to take advantage of this imbalance by selling Gold.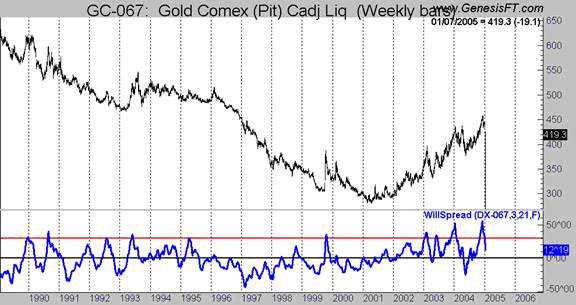 The above chart shows the tremendous impact this spread relationship has had over the last 15 years. Indeed, every time the spread has risen above the upper line you see here Gold has tumbled.