Basics of Trading: Part 3
In the first and second parts of this series I looked at some of the various elements you will need to master if you are to have a chance of succeeding at trading. In this final article, I will run through a strategy I have used in the past to illustrate some of the concepts previously discussed.
Basic Strategy
The UK stock markets tend to be range-bound, especially on a short-term basis. This strategy looks to buy low and sell high, so it is swing based. It uses the basics of support, resistance and trendlines combined with money management as I've discussed earlier.
The Rules:
Look for a test of support or resistance or a trendline that fails to break.
If it tests support and bounces up, then go long and place the stop just under the support level.
If price tests resistance and bounces down, then go short and place the stop just above the resistance point.
Take profits at a test of previous support or resistance.
Once the trade is in profit (how much is up to you) move the stop to break-even, so you are then sitting on a "free trade."
Trade off a 60 minute bar or candlestick chart. Look for a Reward / Risk ratio of at least 2:1 – ideally 3:1.
No trades held overnight if the company is reporting the next day.
Here's an example of how the strategy works – using the Royal Bank of Scotland as an example: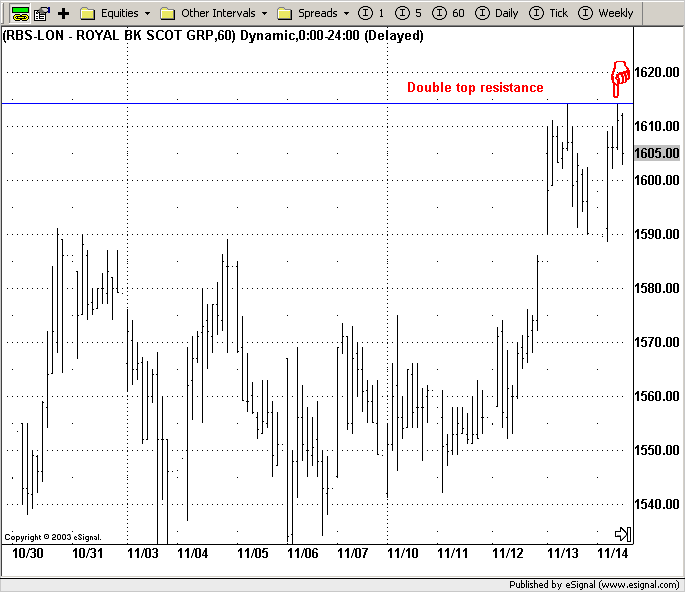 There is resistance at 1614, which has been tested and failed to break above that point. There is a potential trade here, but the price says 1605 which, with a stop at 1616 and a target at around 1590, would give a Reward / Risk ratio of 1.36 – which is too small to trade. However, if we enter a limit order in the market at 1608 then we will get a Reward / Risk Ratio of 2.25. Let's see if we get a fill on the next bar.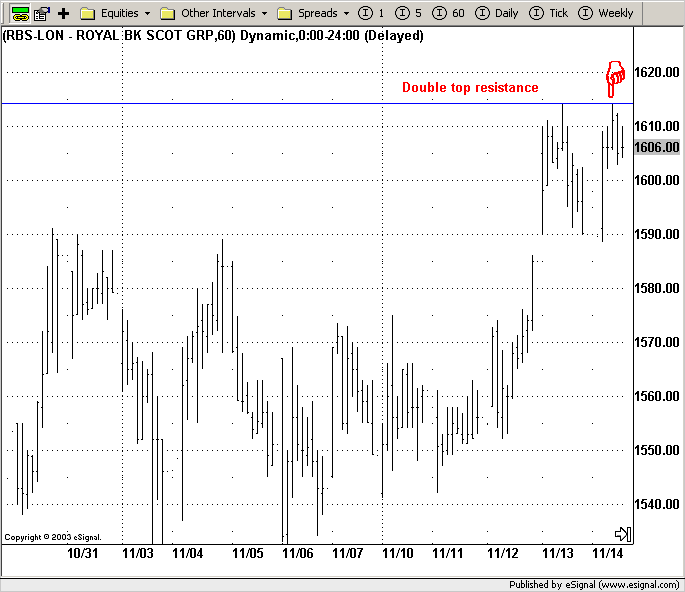 Yes we got filled. That last bar shows a high of 1610 and a low of 1604, so our limit order at 1608 would have been filled.
Ok, so we are now short with a stop at 1616.