Using Technical Indicators To Develop Trading Strategies
Indicators, such as moving averages and Bollinger Bands, are mathematically-based technical analysis tools that traders and investors use to analyze the past and predict future price trends and patterns. Where fundamentalists may track economic reports and annual reports, technical traders rely on indicators to help interpret the market. The goal in using indicators is to identify trading opportunities. For example, a moving average crossover often predicts a trend change. In this instance, applying the moving average indicator to a price chart allows traders to identify areas where the trend may change. Figure 1 shows an example of a price chart with a 20-period moving average.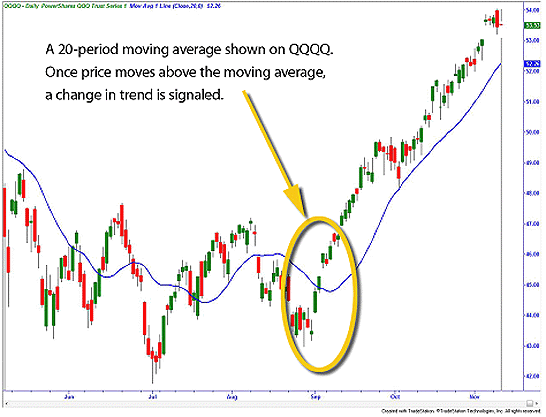 Fig1: QQQQ with a 20-period moving average. Source: TradeStation.
Strategies, on the other hand, frequently employ indicators in an objective manner to determine entry, exit and/or trade management rules. A strategy is a definitive set of rules that specifies the exact conditions under which trades will be established, managed and closed. Strategies typically include the detailed use of indicators or, more frequently, multiple indicators, to establish instances where trading activity will occur.
While this article does not focus on any specific trading strategies, it serves as an explanation of how indicators and strategies are different, and how they work together to help technical analysts pinpoint high-probability trading setups.
Indicators
A growing number of technical indicators are available for traders to study, including those in the public domain, such as a moving average or stochastic oscillator, as well as commercially available proprietary indicators. In addition, many traders develop their own unique indicators, sometimes with the assistance of a qualified programmer. Most indicators have user-defined variables that allow traders to adapt key inputs such as the "look back period" (how much historical data will be used to form the calculations) to suit their needs.
A moving average, for example, is simply an average of a security's price over a particular period. The time period is specified in the type of moving average; for instance, a 50-day moving average. This moving average will average the prior 50 days of price activity, usually using the security's closing price in its calculation (though other price points, such as the open, high or low can be used). The user defines the length of the moving average as well as the price point that will be used in the calculation.
Strategies
A strategy is a set of objective, absolute rules defining when a trader will take action. Typically, strategies include both trade filters and triggers, both of which are often based on indicators. Trade filters identify the setup conditions; trade triggers identify exactly when a particular action should be taken. A trade filter, for example, might be a price that has closed above its 200-day moving average. This sets the stage for the trade trigger, which is the actual condition that prompts the trader to act – AKA, the line in the sand. A trade trigger might be when price reaches one tick above the bar that breached the 200-day moving average. Figure 2 shows a strategy utilizing a 20-period moving average with confirmation from the RSI. Trade entries and exits are illustrated with small black arrows.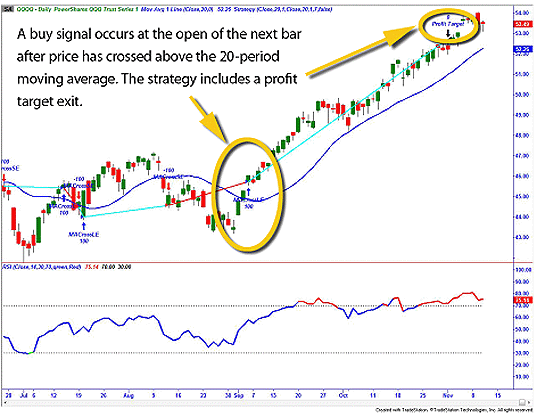 Fig 2: This chart of QQQQ shows trades generated by a strategy based on a 20-period moving average. A 'buy' signal occurs at the open of the next bar after price has closed above the moving average. The strategy uses a profit target for the exit. Source: TradeStation.