The Market Holy Grail: Fact or Fiction
Introduction
The Holy Grail is quite possibly the most famous piece of Christian mythology. Almost every archaeologist, historian, Christian and capitalist would love to find it, and many dedicate their lives towards its pursuit. It is said that those who drink from The Grail will be blessed with eternal life, whether that is spiritual or physical is open for debate (unless you have read 'The Da Vinci Code' where the last thing you would do is drink from it!). Perhaps that explains why Indiana Jones may appear in a fourth film despite his increasing age.
When we talk about the Market Holy Grail we don't mean a cup that promises ever lasting life, more a cup that you can dip into the markets and pull out a never ending supply of money. But wait a minute, this sounds too good to be true? Or does it? Warren Buffett and George Soros have made billions from their investments in financial markets, maybe they found The Grail. The Internet is teaming with market 'gurus' who offer to teach the secrets of The Grail for a princely sum of around $250 a month. So why do so many traders retire frustrated, mentally exhausted and a few thousand dollars worse off, never having found what looks so readily available to them?
The reason why traders' attempts are often futile is because they spend their time and money looking in the wrong place. By saying they are looking in the wrong place implies that there is a right place and we are not dealing with a myth. So where is it? Fear not intrepid explorer, we will show you where to look. If you concentrate hard enough you might even see the treasure map hidden within our words.
What the Market Holy Grail Is Not
The majority of first time traders will go through a process like this, or something very similar:
Read a little about the market and decide to try you luck.
Discover that the Internet is full of magic indicators and gurus.
Start trading and realise that it is a lot harder than the gurus said it would be.
Come to the conclusion that this strategy doesn't work and try again or…..
Give up with a sore head and a sore wallet.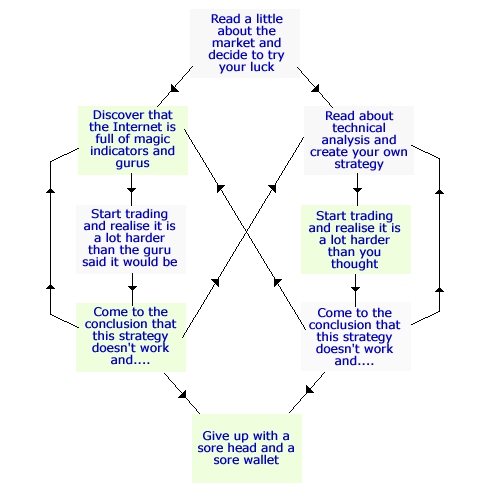 Confusing isn't it? That is because, as you probably already know, learning to trade is a very confusing business. It often seems like the more you learn the more confused you become. The more confused you become the more you think you should learn and so on. If you are unable to get a combination of indicators to work surely someone has a combination you can buy. Alas, no matter how hard you try, following either of these two paths never seems to work. That is because the Market Holy Grail is not an indicator, strategy, method or charting package.
So What is it?
If it is not something that you will find on your charts then it is not something that you will be able to understand after one night's study. Just as many people dedicate an enormous amount of energy towards researching the Christian myth of the Grail, you will have to do the same when pursuing the market incarnation. That is a very important point; being a successful trader isn't easy, nobody ever said it would be. That is why the rewards for becoming consistently profitable are so high. There is no doubt that most, if not all, combinations of indicators work. However that does not mean that they work all of the time but they do work well in specific conditions. The success of every indicator-based strategy is dependent on your ability to read the conditions of the market and apply what you have learned. It is also down to the internal thought process that occurs every time you come to place a trade. So what is the magic factor? The answer is: you.
What Does This Mean?
Wait a minute; we can't be serious, can we? Well let us think about it for a while. Think back to the last time you tried to trade a 'Holy Grail' system or a system you researched and back tested yourself. If it failed how many of the following weaknesses hindered your efforts: