The Canary Correction - Part 1
A look a the current market correction - the 'canary correction' and what may have caused it.
When the Morgan Stanley Emerging Markets Index Exchange Traded Fund (EEM) hit an all-time high of $111.10 on May 9, 2006, it marked a meteoric rise from its humble launch price of $33.37 a little more than three years before. Volume had also grown exponentially from a mere 36,300 shares on April 11, 2003, to an average daily exchange of more than 3.5 million shares by early May 2006.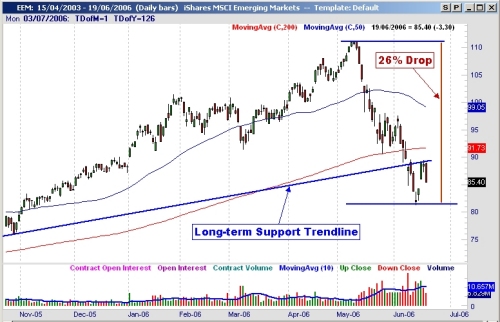 caption: Figure 1 – The Morgan Stanley MSCI Emerging Market ETF (EEM) dropped sharply between May 9 and June 13, 2006. May registered the biggest monthly decline in the history of the index, and the drop was only half over.
Chart provided by www.Genesisft.com.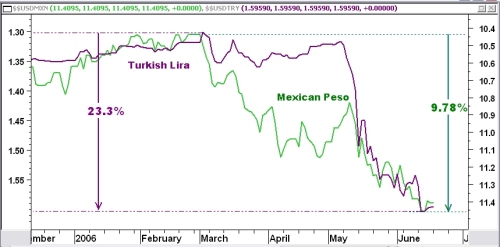 caption: Figure 2 – This daily chart illustrates the fall in the Mexican peso and Turkish lira between early March and mid-June. With the lira suffering the majority of its losses since May, the drop became even more destabilizing. Chart provided by Metastock.com.

But then the unexpected happened. By May 31, the EEM had lost nearly 12 percent, the largest monthly fall in its history, and the worst was still to come. By June 13 after just 24 trading days, the value of the ETF was down more than 26 percent.  The damage was not restricted to emerging markets. In total between early May and mid-June 2006, global stock markets lost $6.3 trillion in value, according to Birinyi Associates, or approximately one-half the annual gross domestic product (GDP) of the United States.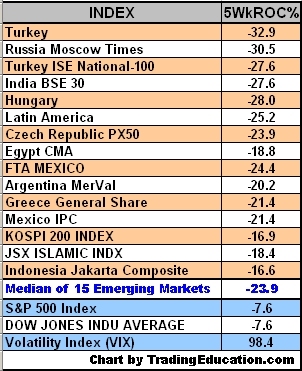 caption: Table 1 – This summary of percentage drops in emerging markets shows huge declines around the world between May 9 and June 13, 2006. In the process, the CBOE market volatility index (VIX) surged to highs not seen since April 2003 following the start of the rally that ended the last recession.
Table by www.TradingEducation.com Data by www.Metastock.com.

Stocks weren't the only asset class to suffer a serious correction. Gold dropped 22% during the stock market drop in May-June, and a number of other leading metals suffered similar fates. Copper, a leading indicator of global industrial activity, dropped more than 24%.
Small economy and emerging market currencies have also been hammered, not the least of which were the Icelandic krona and New Zealand dollar. The Mexican peso fell 10% and the Turkish lira plummeted more than 23% between the beginning of March and June 13 (see Figure 2) while the Hungarian forint lost nearly 8% against the dollar between May 31 and June 13. Rising inflation and falling currencies means that those economies will be tested as their central banks attempt to cool the blaze without putting out the fire – a tough job and one that often proves mission impossible.