PitNews.com
PitNews.com Magazine is the premier resource for market news and information, providing educational articles, market commentary, seasonal trades and the latest technical analysis from the industry's top traders and educators. Our mission is to deliver valuable, timely information to traders of the Futures, Forex, and Stock Markets.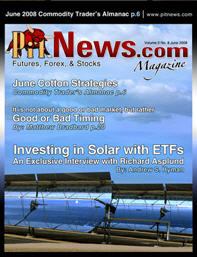 Publisher: Pitnews.com
Country: United States
Website: http://www.pitnews.com/
Frequency: Monthly
Subscription: Free
Address1: 271 N Springcreek Pkwy
Address2: Ste. B2
County: Providence, UT 84332
Phone: 800.526.3019 or 435.753.2402
Email: pitnews@pitnews.com
Member reviews
Great Magazine!
Packed with info on the Futures, Forex, and Stock markets. Includes articles coving technical analysis, market commentary, trading psychology, and MUCH more. Overall a very good magazine to look in to.
1 - 1 of 1
You need to be logged in to post reviews