Unquoted.co.uk
Unquoted.co.uk has been set up to provide a place where investors in OFEX and other off-exchange trading mechanisms for unquoted and unlisted shares can meet and trade information. Unquoted.co.uk will provide news and analysis of the general off-exchange marketplace including OFEX on a daily basis and provide tools to allow our members to swap information and get a head start on the City. Unquoted.co.uk aims to build up a friendly community where off-exchange traders will keep coming back to.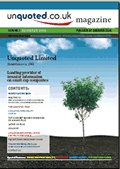 Publisher: Unquoted Magazine
Country: Unquoted.co.uk is owned by an Investment Company based in Gibraltar.
Website: http://www.unquoted.co.uk/magazine.php
Frequency: Quarterly
Subscription: Free
Email: info@unquoted.co.uk
This magazine doesn't have any reviews yet
You need to be logged in to post reviews