Currency Trader
Currency Trader is a monthly full-feature digital magazine covering trading strategies, systems, analysis and news for FX and currency futures traders. The magazine is free and downloadable in PDF format. Each issue provides a wide range of strategies, market analysis, commentary and news for currency traders around the globe.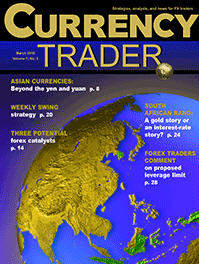 Publisher: Currency Trader, Inc.
Country: United States
Website: http://www.currencytradermag.com
Frequency: Monthly
Subscription: Free subscriptions available
Address1: 161 N. Clark
Address2: Suite 4915
City: Chicago
County: IL
Postcode: 60606
Member reviews
good mag
the best mag. for the begenar and how need to be in tuch with the market

and the most emportant its free
For a freebie this is good
The magazine download is very clear both text and graphics are clear. Articles are well written and I would say understanable by all.

Well worth a look.
1 - 2 of 2
You need to be logged in to post reviews