Investors Chronicle
Investors Chronicle magazine has been providing private investors with weekly stock market analysis since 1860. This makes it one of the oldest magazines in the world.
It started life as the weekly Money Market Review. In 1914, it merged with the Investors Chronicle and Journal of Finance, started in the 1890s. Then in 1928, publication of the amalgamated title was taken over by Brendan Bracken - the man behind the modern Financial Times. In 1967, Investors Chronicle merged again, this time with the Stock Exchange Gazette. And in 1978, it re-established its connection with the Financial Times, by becoming part of the FT Group.
Over the years, the magazine has been home to some of the leading figures in financial journalism. Harold Wincott, considered by many the greatest Investors Chronicle editor, ran the magazine for 21 years. Andreas Whittam-Smith edited the magazine from 1970 to 1977, before going on to found The Independent newspaper. Today, Investors Chronicle is edited by Jonathan Eley.
The Investors Chronicle daily website (IC) complements the weekly Investors Chronicle magazine. Together, the website and magazine aim to help private investors make timely and rewarding investment decisions.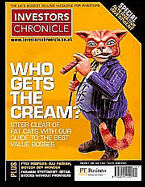 Publisher: Financial Times Business
Country: United Kingdom
Website: http://www.investorschronicle.co.uk/
Frequency: Weekly
Subscription: £12.50 per month (1 issue each week) or £115.00 per annum
Address1: Investors Chronicle
Address2: Number One Southwark Bridge
City: London
Postcode: SE1 9HL
Phone: +44 (0) 207 873 3000
Email: ic.cs@ft.com
Member reviews
IC - Not for traders
I've just finished a 1-yr (heavily) discounted sub and am not renewing. Best things about it? Chris Dillow's well argued and cynical economics-based view (stock picking is pointless...) which amusingly contradicts just about everything else in the magazine. Every now and again they run good 'buyers guide' type features, which will tabulate the rates of forex brokers, stock brokers commissions, s/bet spreads, etc. Worst things? Overly splashy features which would lose you a fortune if you followed their strategies, written by over-confident journos. All aimed at long term investors, with little to interest an active trader - except for its 'The Trader' column which is fine but hardly worth buying the mag for. Lists and lists of data such as director buys, unit trust and index performance is just padding in this age of internet data for free.
Investor's Chronicle
I was a subscriber for about 10 years until recently, when I let my subscription lapse. For years, IC was the only real UK publication of its type. It was very useful for data and information, and pretty good value for money. after some hefty price rises over the years and vast data availability on the Internet, I see no point in buying the IC any more. The layout has deteriorated in my opinion.

It may be of some use to fundamental analysts or long term investors/savers, but is of next to no use to more active traders.
IC
The last issue I saw said something like 'how to pick winning shares in less than 15 minutes' - I think that sums the magazine up... means well, don't put too much vinegar on or the ink will run all over your chips.

Dave


1 - 3 of 3
You need to be logged in to post reviews