Active Trader
Active Trader is the premier source for trading strategies, news, analysis and educational resources. It is the flagship magazine (and the only paid for publication) from the publishers of Currency Trader and Futures & Options Trader.
Every month Active Trader brings you the best:
Trading strategies and tactics, using technical and fundamental approaches. Material for beginners as well as advanced and professional traders.
Blow-by-blow analysis of real trades.
Interviews with top traders
Risk control and money management articles.
Profiles of other traders like you.
Industry news -- the most important events shaping the trading world.
Reviews of Web sites, software and books.
Trading technology — the latest in hardware and communications.
The business of trading: What you need to know about taxation, incorporation, and other business issues.
Trading system analysis. The most rigorous historical back-testing in the business.
Trading calendar -- upcoming economic report releases and government statistics.
New products, services and industry events.
Programming code for different software packages.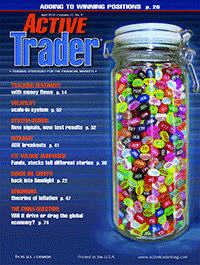 Publisher: Active Trader magazine
Country: United States
Website: http://www.activetradermag.com
Frequency: Monthly
Subscription: $59.40 per month
Address1: 161 N. Clark
Address2: Suite 4915
City: Chicago
County: IL
Postcode: 60601
Phone: 1-800-341-9384
Fax: 312-775-5423
Member reviews
Good Magazine for Retail Traders
They carry a wide variety of contect about current markets consitions as well as different trading strategies.
Good for all traders
This is a great magazine for traders, lot of useful information and trading strategies that can help Newbies as well as experience traders.
TASC Lite
While I maintain subscriptions to both TASC and Active Trader my preference is to Active Trader. Active Trader places more focus on Trading Strategies; with Trade Diary and the Trading System Lab my favourite sections in the magazine. The writing is clearer than in TASC although TASC strips away writing 'fluff' in favour of hard statistics. Although if I was looking for something to read on the train I would grab my monthly copy of Active Trader.
Good alternative to Traders
I get this on monthly subscription as as with a lot of the US magazines the delivery is a bit dodgy sometimes. Occasionally two months will turn up at once and so on.

However, overall I find it a good read - not too anal and all articles well written (OK I'm slightly biased - I write for them sometimes). Not too expensive either, even with the shipping. Worth a look.
Great Read
This is one of the best trading magazines, quite informative and interesting for active trades, easy to read and often very entertaining.
Active Trader magazine
Nice, useful magazine. Accessible articles, aimed at an audience of less hardcore technical analysts than TASC. Has covered some interesting aspects that I haven't seen in other magazines, such as an analysis of trading by time of day, on the NYSE.

On the other hand, some of the articles tend slightly towards superficiality - there's not the depth of analysis there, that you might get with TASC.

Against that, I generally find that there's more of interest in there than a typical issue of TASC.

The delivery of issues is just as erratic as TASC as well - with both I've had nothing for 6 weeks and then 2 issues within days of each other

(it would be moderately useful to know if 1=bad, 5=good, or vice versa, when assigning scores! I've assumed 5=good)
1 - 6 of 6
You need to be logged in to post reviews