Futures
Futures magazine is written for traders who use commodity and financial futures, options, stocks and forex markets to make money. Differing in aggressiveness of trading styles, our readers all share the desire for increased returns and profits. Only Futures magazine:
Provides perspective on trends affecting the global marketplace
Helps readers understand the factors that affect futures prices
Delivers information on how to maximize trading profits while minimizing risk
Expands your trading knowledge with in-depth market news, managed money and fund reviews, technology updates, successful trader profiles and more!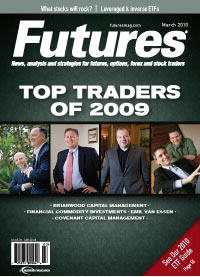 Publisher: Summit Business Media
Country: United States
Website: http://www.futuresmag.com
Frequency: Monthly
Subscription: $121.00 per annum
Address1: 222 S. Riverside Plaza
Address2: Suite 620
City: Chicago
County: IL
Postcode: 60606
Phone: +1(312) 846-4600
Fax: +1(312) 846-4638 fax
Email: futures@halldata.com
Member reviews
Very, very good
This is a great magazine, quite helpful for futures trades, easy to read and quite informative.
not bad
bit light on content and heavy on advertising, but articles are generally interesting and relevant.
Futures Magazine
Great industry focus. A lot more "professional" than Stocks & Commodities (which also good).

Enlightening articles on all aspects of derivatives trading.

Seem to spend more time reading Futures then S&C

Great value too.
1 - 3 of 3
You need to be logged in to post reviews