The Technical Analyst
The Technical Analyst is the only magazine devoted to technical analysis for trading and investment professionals. Packed with news, features and commentary from key players around the world, this quarterly publication is essential reading for the market professional.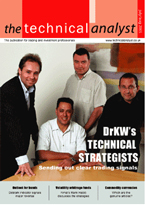 Publisher: Global Markets Media Ltd
Country: United Kingdom
Website: http://www.technicalanalyst.co.uk
Frequency: 4 issues per year
Subscription: (pdf and flipbook) £49.00 or UK Hard Copy (includes Electronic sub') £160.00 per annum
Address1: Jeffries House
Address2: 1-5 Jeffries Passage
City: Guildford
County: Surrey
Postcode: GU1 4AP
Phone: +44 (0)1483 573150
Member reviews
Poor Value for money
The title in my view says it all
Technical Analyst
Large, nicely laid out pages, attractively presented. A little thin (launch issue) at 48 pages.An interesting range of topics - Weber and Zeig on P&F (a book review of their latest opus later in the mag), Tom Dorsey on sector rotation, an "academic persepective on the pros and cons of TA" and acouple of pages by Bulkowski were interesting but not that out of the ordinary, it was nice to see a bit about Wyckoff, and then there were areas I'm not perhaps that much into but it's nice to see some variety - Volume and OI in US bond futures, market views looking at the pound, Japan and US GDP, the mag ends (barring adverts) with a 5 page commitment of traders report.
Interesting, and the launch issue is a freebie if you ask
www.technicalanalyst.co.uk
for it, not a long read but worth a look.
Downside? Well, I queried the price with the publisher - £275 p.a. for 12 issues seems a bit steep to me, this is apparently a corporate rate and individuals can expect it cheaper, although I found the personal rate still a bit high considering the page count. Good info can't be judged on column inches of course, but even so it's not cheap....
Attractive, Interesting, Quite expensive, I think some will swear by it, others will be disinclined to subscribe. It is, however, nice to see TA being promoted in the UK and as the launch issue is a freebie to those who ask I suggest it's worth trying.
Dave
PS. I didn't mention the actual 'personal use' cost of the magazine sub, which is £95 p.a., the higher rate is for the big boys at the bank to get to read it. I did consider the page count a bit low, I have since been told that the May issue is hopefully going to be 64 pages long. Obviously this combination would improve the value-for-money side of things a bit, so I pass it along for info.
1 - 2 of 2
You need to be logged in to post reviews