SFO Magazine
SFO, the Official Advocate for the Personal Investor, is dedicated to providing individual, retail traders with information, education and analysis that they can use to become more successful and more profitable. In an all-digital format, the magazine offers an interactive, more fully rounded learning experience.
SFO has always been on the cutting edge of markets and technology and splashed into the electronic magazine world with its March 2010 publication.
Always on the move to give traders the most up-to-date educational information in the most productive and easy-to-access format, SFO continues to move ahead of the crowd with its interactive publication delivered straight to readers' e-mail inboxes.
The magazine is a place for active traders to find consistently useful and cutting-edge articles on markets, trading strategies and technical methods, as well as economic and regulatory issues. And SFO's newsletters provide timely trading ideas couched in an educational context.
The focus on global and national news, commentary and methodologies in both equities and derivatives markets offers information readers can use to shape their personal investing styles and make the most of market opportunities. The content within the high-quality pages of SFO's magazine and newsletters can't be found anywhere else.
SFO continues to draw top authors, traders and financial industry experts, including Jeff Augen, John Murphy, Steve Nison, John Bollinger, Jim Trippon, William O'Neil, Darrell Jobman, John Carter, Harry Dent, Jon Najarian, Ken Shaleen, Michael Covel and many others.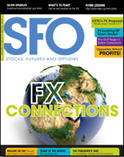 Publisher: Wasendorf & Associates Inc.
Country: United States
Website: http://www.sfomag.com
Frequency: Monthly
Subscription: Free
Address1: One Peregrine Way
Address2: One Peregrine Way
City: Cedar Falls
County: IA
Postcode: 50613
Phone: +1 800.590.0919
Email: customerservice@sfomag.com
Member reviews
is it still going?
Another magazine taken over, doesn't appear very active or inviting as of Dec 2014, didn't feel drawn in to investigate
Best all round traders magazine
When I started out as a full time trader my trading mentor suggested that I subscribe to SFO magazine. I did so and have not missed an edition ever since. The articles are well researched, prepared and relevent. I have often picked up ideas, strategies and suggestions from reading SFO. Some of which I have introduced to my own trading.

I love the new interactive format.

SFO is a must read for all traders and is the best all round traders magazine out there.
One of the better ones.
One of my favorite trading magazines.
Tries Hard
This is a well researched and written magazine, with some very informative articles.
1 - 4 of 4
You need to be logged in to post reviews