Ten Basic Options Strategies
Long Call
Example:
Nov Soybean Futures 521 ¼
Sell 1 Nov 520 Call 23 ¼
Position Description: Buying a Call Option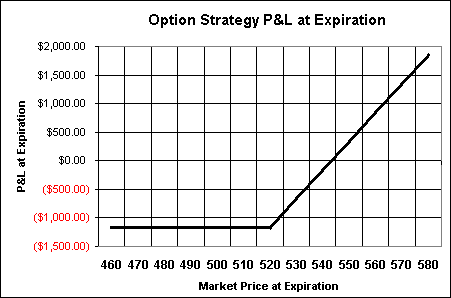 When to Use: When you are extremely bullish. Generally the more bullish you are, the deeper out-of-the-money you will want to go. No other option position gives the trader as much leveraged advantage as a long call option and keeps limited risk potential.
Risk/Reward: Limited Risk/Unlimited Reward
The Long Call has a limited risk to the amount paid for the option, and an unlimited profit potential, as long as prices rise. The break even on a Long Call at expiration occurs if the futures settle at or above the strike price plus the premium paid. However, if prices do not settle above strike plus premium paid, a loss is occurred.
Generally out-of-the-money Call options are a long shot bet, as usually the futures must rally quite a ways for the option to get in the money. Generally out-of-the-money Call options have low deltas and therefore move very little until prices increase and get close to the strike price.
Time Decay: This strategy is very time sensitive. Generally with each passing day, the options value will decrease slightly. Volatility increases tend to slow time erosion. Time decay tends to be exceptionally fast during the last month until expiration.