If you can't spot it, don't trade it!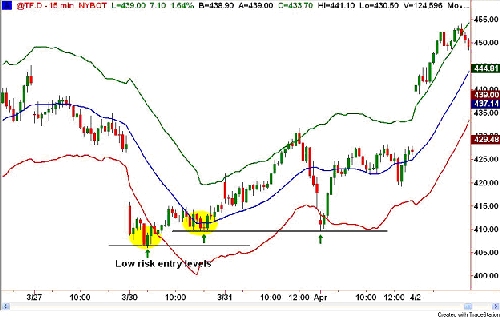 As we can see in the chart, the first level did hold, and the trade worked very nicely.
In this final illustration, I'm using a trade I setup for the students in the last E-mini Futures class I taught in Irvine. The rationale behind this trade was that the ES had been trending higher, albeit in a choppy fashion; the price point highlighted was the last major low, which had to be sustained if the buyers were to preserve control. In the chart of the ES (E-mini S&P), Figure 4, the magenta-colored line is the last boundary; the entry was done a little above, with a snug stop just below that spot, and the trade was exited on the close of the regular session.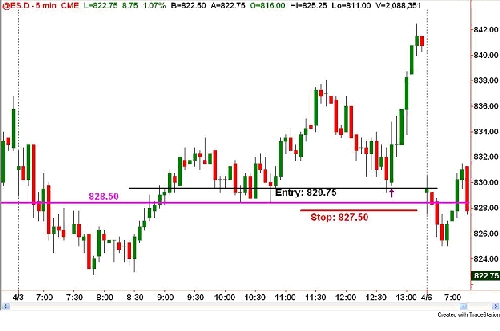 Suffice it to say, not all trades will work as well as these did, but the key here is when they don't pan out, the losses will be trifle compared to the profit potential.
Once a trader learns the skill of identifying these levels, the biggest challenge is putting on the trades. Why do I say this? Well, all of these trades are being placed when price is either retracing or the market is moving strongly into one of these areas.
If you look closely at all the charts, you were buying into a series of red candles or shorting into a sequence of green candles (some of them very tall); psychologically, this doesn't sit well with most non-professional traders. Only by knowing probabilities and accepting risk can a trader place these trades with self-assurance.
The other issue is patience. These setups don't come every minute, or five minutes for that matter - more like two or three times a day (maybe). This is where the phrase "if you can't spot it, don't trade it" becomes relevant.
Indeed, this style of trading perhaps is not for everyone, but regardless of your method, identifying and executing low risk entries are the hallmark of a consistently profitable trader.
Until next time, I hope everyone has a great trading week.