Point & Figure Gone High Tech
PF Line vs. PF Time-Extended

There are two ways to work with the reconfigured data: time-compressed, or time-extended. With the time-compressed version you are just using the data as illustrated above. That is, your data is a point & figure line, where each new point on the line represents a movement of the P&F data, rather than a new date or time period. Figure 4 shows a standard P&F chart of the Dow Jones Industrials.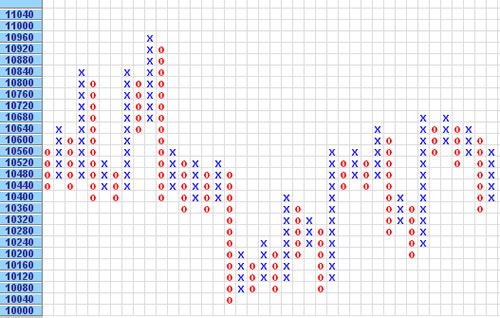 caption: Figure 4.The Classic Point & Figure Chart. DJIA


Figure 5 shows the same market index plotted as a line, with a 10-period exponential average applied to the data, and with a 25 period moving slope plotted as an oscillator. Notice the dated horizontal scale: some months have a lot of activity and some not. That's the time compression.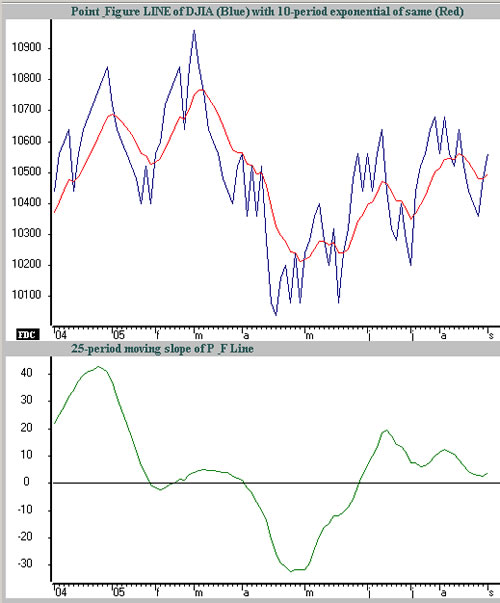 caption: Figure 5. Reconfiguring the P&F data makes it usable 
Suppose that you're an eclectic sort of trader who mixes and matches his signals to "confirm" his opinion. Some people do that by looking at daily and weekly charts, but you want to mix P&F signals with bar chart data. The two have different time scales, so you have to extend your point & figure lines horizontally across a bar chart until you get another P&F price change. Figure 6 shows a bar chart for the
DJIA
over the same period with the
P&F time extended line
superimposed.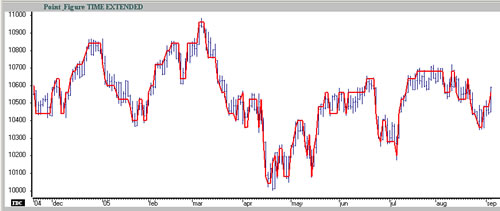 caption: Figure 6. P&F Time-Extended
The chart is interesting because it shows you the smoothing effect of P&F, but more importantly, you now have the capability for testing various P&F parameters. For example, the "classic" P&F format such as the chart illustrated uses price highs and lows, and 3-box reversals. But some traders construct their P&F charts from
closing
data, and others use 2-box reversals, to name a few preferences. In total there are four parameters: box height, box reversal amount, data input (e.g. close vs. high/low), and scale (i.e. linear, log or adaptive). With the data in this digital format you can run
trading simulation
s to see which works best.